Not All Heroes Wear Capes On The Are You Kidding Podcast
Entrepreneurs Brandon and Sebastian Martinez have impressive business records: they started Are You Kidding Socks in 2014, designing and selling over 100,000 pairs to raise close to $200,000 for charities like Stand Up To Cancer, the Make-a-Wish Foundation, and the American Cancer Society. But what makes the Martinez brothers particularly special is that they're not even in high school yet. Brandon and Sebastian are only 13 and 11 years old, respectively, and their success has only made them want to inspire even more kids to give back. So, no strangers to hard work, they started the Are You Kidding podcast, produced by Chairman and Chief Creative Officer of iHeartLatino, Enrique Santos. In the first episode, they sit down with Enrique to find out how he gives back to his community, both in person and through the radio.
Enrique always loved radio, he tells the boys, but he never saw himself getting into the business; in fact, he was a police officer right out of high school, until he started working weekends at a radio station and became friends with the program director. "And he said, 'Do you want to do this forever?'" Enrique remembers. "That meant I had to leave the police department, which I eventually did...but I stayed on as a reserve police officer, which I still am today. So I'm able to give back to the community, especially the community where I came from. That's very important to me." That "leap of faith," as Brandon calls it, led to a pretty amazing career, from radio DJ all the way to CCO of iHeartLatino. But he doesn't think he's much different from Brandon and Sebastian in terms of his impact: "You guys are doing podcasts, so now, welcome! Because you guys are now at the same level I am," he says. "These microphones that we're talking into...they're very powerful because they reach so many people. But when you use these microphones to bring people together, to shine light on people's problems, especially people that don't have a voice...you really have an impact and ability to be able to change people's lives and to help people."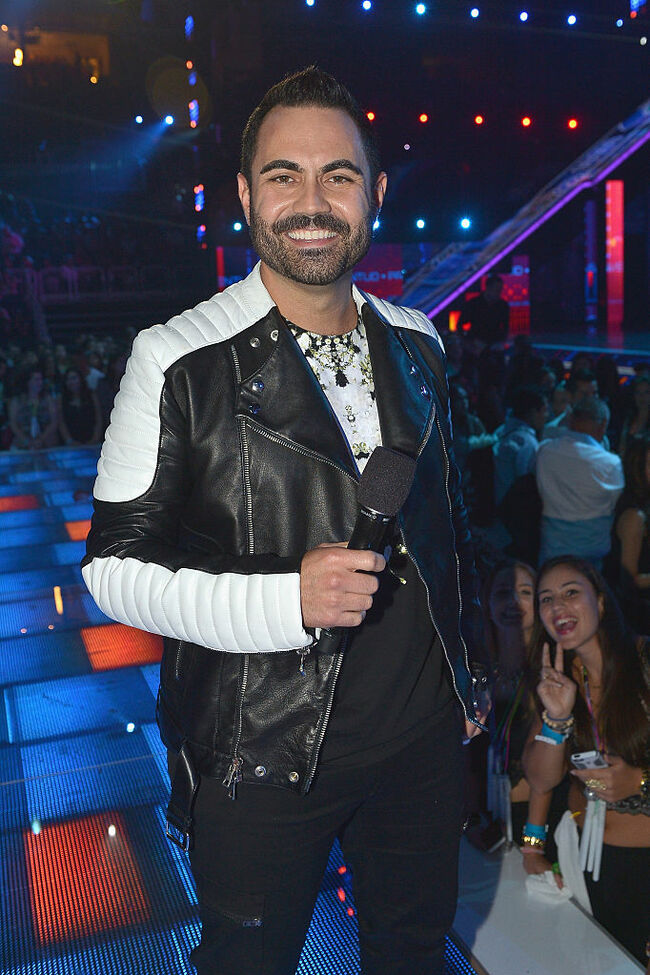 Brandon and Sebastian are, of course, all about that life, and they tell Enrique about giving away 2,000 pairs of socks to people displaced by Hurricane Irma. "I felt like a superhero because I got a chance to go out and help people," Brandon says. Enrique says they definitely qualify as heroes. "Not all superheroes wear capes," he says. "Doesn't matter how old you are, you can be a superhero when you step in and really help the less fortunate." Plus, Brandon says, "It feels good to give back...because you know that you're doing good in the community and you're helping others...And while you're helping them, using your voice to inspire others to do the same thing." They ask Enrique what would be the best way to use their voice to inspire youth, and Enrique says the important thing is to use each day fully, to be productive, to try, to start, without being worried about failing. "Nothing is perfect and we're all humans, and we're all going to mess up. That's part of life...Whatever you did today, if it didn't go exactly as planned, know that tomorrow you have another opportunity to get it right." Sounds like great advice for anyone of any age. 
Join Brandon, Sebastian, and Enrique to learn about 13-year-old Poppy, who designed a pair of their unique Stand Up To Cancer charity socks, the unusual and hilarious way Enrique helped his grandmother recover from a cancer scare, and more about the brothers' Kids Helping Kids initiative, on the very first episode of Are You Kidding.
If you want to be sure you're listening to the podcasts everyone else is checking out, iHeartRadio has you covered. Every Monday, iHeartRadio releases a chart showing the most popular podcasts of the week. Stay up to date on what's trending by checking out the chart here. There's even a chart just for radio podcasts here, featuring all your favorite iHeartRadio personalities like Bobby Bones, Elvis Duran, Steve Harvey and dozens of others.
Photo: Getty Images